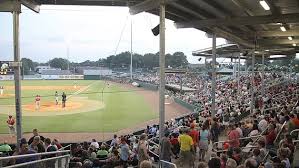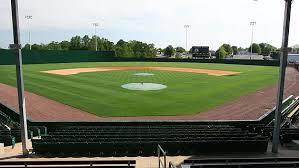 McNair Field is the newest ballpark in the Coastal Plain League. The town of Forest City approved the construction of the stadium at the site of Legion Field behind the Cool Springs Administrative Office in May of 2007. McNair Field was designed by McGill Associates of Asheville, NC. The park is named after the owner of the NFL's Houston Texans, Robert McNair, whose contribution made construction of the stadium possible. McNair is a native of Forest City, North Carolina and played baseball on Legion Field as a child.
McNair Field has 556 reserved seats in the grandstand that will also hold over 1,000 fans in general admission seating. The entire grandstand is covered and features a state of the art press box housing game day operations, media personnel, and a home and road radio broadcast. Fans are encouraged to bring a blanket and take advantage of the grassy area behind third base for lounging on lazy summer nights.
McNair Field features a beer garden down the right field line, and concession stands and restrooms on the right field and left field sides of the ballpark. A full line of concessions are offered during events at McNair Field, including hot dogs, hamburgers, french fries, pizza, Coca-Cola products, beer, and several other items unique to McNair Field.
McNair Field is one of the nicest parks in which to play in all of collegiate summer baseball. A new irrigation system has been installed as well as a state of the art playing surface. Minor league style dugouts welcome the players and new bullpens are located out of play at the far end of right and left field. McNair field also features a new, minor league caliber lighting system.
An exciting feature of McNair Field is the state of the art scoreboard. The scoreboard features a 15' x 8'10" color screen that is capable of displaying team logos, player headshots and up to date statistics, and advertisements. The scoreboard was provided to McNair Field by Lipscomb Signs of Forest City and is valued at $300,000.
In 2009, McNair Field was named the best baseball field in the country in the category of Schools and Parks by the Sports Turf Management Association. The STMA is a no-profit professional organization of groundskeepers. McNair Field was one of 14 category winners. McNair Field was also named 4th Best Collegiate Summer Stadium in America in 2016.